See Polish Television News Story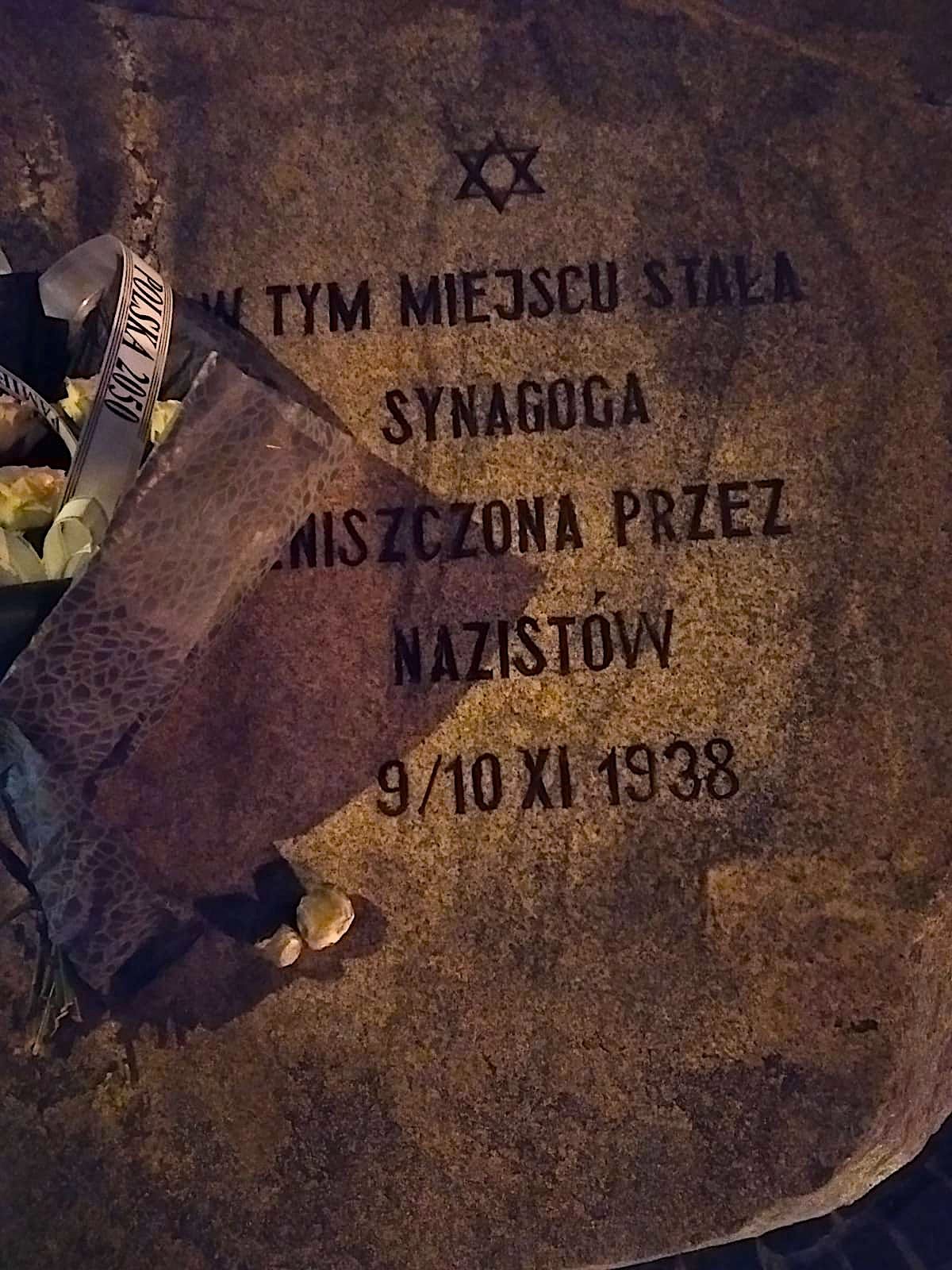 Shabbat in Zielona Gora 
Sundown in Zielona Gora, November 5th, standing in front of yet another marker/monument in Poland. Yet this town was part of Germany when the war began. In this small area, the memorial with a Jewish star chiseled into the rock along with the date 09 XI 1938 and the shul's name sits eerily on the space where the synagogue's foundation once stood. With candles lit, the ceremony consisting of me singing Eil Maleh Rachamim moved me to tears. "Men, women, children, strangled, burned, murdered, who gave their souls in the Holiness of God's name." It was tough to do. The silence afterward was compelling as no one wanted to break the solemnity of the moment. There was so much to contemplate. Hania, the community leader, said at the end that it was up to us to stand strong with each other against this kind of hate and never let this happen again.  
After this ceremony, there was a panel discussion about Kristallnacht in the town's main library. Following that, Marcin, Alexandra, and I performed a Kabbalat Shabbat concert in the library auditorium. I tied the musical pieces together with the blessings of Shabbat so that they would have relevance to the sanctity of the day.  Someone recorded the concert, and I will make it available when I can. After the program, I spoke to many people. There was a woman there that had a strong desire to bring Jewish life back to Zielona Gora. She had gone to university in Bretzlov, and many vital programs were going on that included lectures and programs in the arts related to Judaism. She now lives in Zielona Gora and wants to re-create these things hoping that Jews like her would decide to explore their Jewish identity. I also met one of the most interesting, intellectual, and passionate heroes of Jewish revival,  Professor Pawel Spiewak. We spoke extensively on Motzei Shabbat, and I could not get enough of his wisdom and expertise on Polish Jewry. He was the director of the Jewish Historical Society and Museum in Warsaw for ten years. His stories amazed me, and his vision of future projects about the situation in Jewish Poland is exciting and inspiring. I will work with him as much as I can in the future to further the cause of Polish Jewry. What a blessing it is to have met such amazing people on this journey.   
I greatly miss Kelley, the grandchildren, my dog--oh yeah, and my kids. But, as those of you who know me, I am always up for an adventure—and this certainly qualifies!  
We are heading back to Warsaw on the way to Kazimierz Dolny, where I will gather my thoughts and write some music with Marcin. I will need to see a doctor for my swollen ankle and make sure that the swelling and pain that I am still experiencing should be of concern while not too bad. Ahh, the sun is finally peeking out its head from amongst the eternally grey clouds. Maybe there is a rainbow at the end of the tunnel. It does not lead to a pot of gold, but rather to a glimmer of hope.