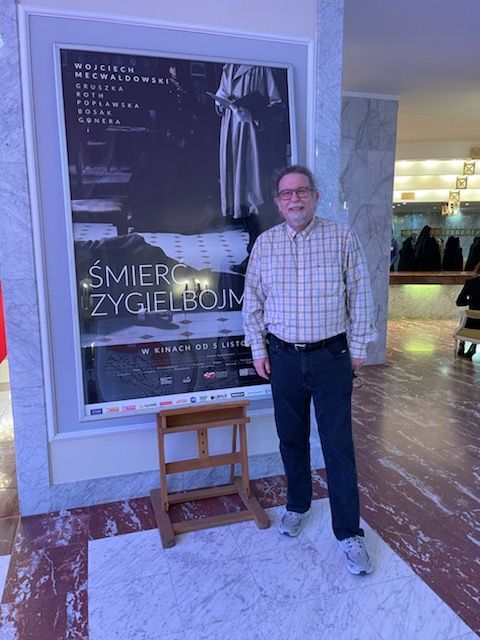 Another fantastic day in Poland. With limited mobility, I haven't been able to do everything that I wanted, but I still kept pretty darn busy. I met with my new friend Jose  Florenko for coffee, and then we went to the Jewish Historical Institute to see the Vilna Ga'on exhibit. We also saw the presentation on the Oneg Shabbat group that maintained and hid written testimony from the Warsaw Ghetto. Incredibly moving and informative. But once again, the sadness and disbelief of how so-called human beings can behave is overwhelmingly difficult. Jose is an extraordinary artist, a mensch, and highly educated in Yiddishkeit. What a pleasure to hang with him.  
After our little adventure, I had lunch with Joe, the Masorti Centrum Ki Tov congregation leader. We had very concrete discussions on moving forward, making his congregation stronger, and building a reputation as a home for Masorti Judaism in Poland.  
Afterward, I visited the Warsaw Ghetto Museum offices, to visit with my friend Halina to listen to some music and get suggestions for Marcin and my musical project (more news on that soon). Then the boss comes in and asks if we want to go to the premiere of the movie Smierc Zygielbojma, The Death of Zygielbojm. It was a poignant movie about the efforts of Szmul Zygielbojm telling a deaf and dumb world about the mass murders going on in Polish death camps while he was part of the Polish government in exile.  The indifference displayed by government officials in England was so depressing that he committed suicide.  I believe that the message for the Polish government, whose ministry of culture was one of the sponsors of the film, was that the rest of the world was just as guilty as Poland for their reaction. Somewhere between righteous gentiles and Jewish hunting parties lies the highly complicated truth.  
Super tired now and getting ready to leave tomorrow for Zeolona Gora near the German border.  
I will hopefully write again tomorrow if I am not too exhausted by the trip.